Silent Disco Hire Company
We supply LED silent disco headphones and equipment hire plus 3 channel silent DJ packages for parties, corporate events, weddings, schools, birthdays and festivals.
Silent Disco Equipment Hire
Have your own silent disco from just £90 with our 3 channel LED silent headphones delivered to any UK address. All the silent disco kit you need in a box including headsets, transmitters, cables & instructions.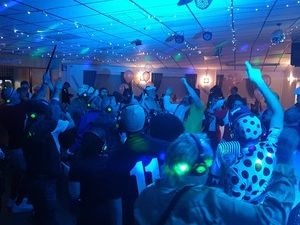 Silent Disco Parties & Events
Looking for fun wedding, event or party ideas? Rent our silent disco equipment or hire a full DJ package. You can play 3 different channels of simultaneous music. With the best silent disco tunes its guaranteed party fun!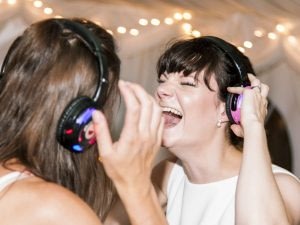 Silent Disco DJ Hire Packages
Your whole event taken care of with a professional DJ arriving at your venue with the silent disco headphones, lighting and a DJ booth to perform a 3 channel DJ set of the best silent disco party songs ever!
Silent Disco Headphone Hire
We are one of the UK's biggest silent disco rental companies combining great service with affordable headphone disco prices for a range of events including parties, schools, weddings and festivals.
We specialise in 3 channel LED silent disco equipment rental. Our top of the range headphones are clean, quick to set up and easy to use. They can be delivered anywhere in the UK with all the gear you need in one box to organise and throw a successful silent disco party.
Need a professional DJ to run the party? No problem, your whole event can be taken care of with our experienced DJ supplying setup, lighting and a 3 channel silent disco DJ package. We can even provide a PA system to DJ out loud early on, followed by a silent disco to finish off your celebrations in style!
3 Channel Headphone Hire from £90
A silent disco, also known as a silent party and headphone party, uses a system of radio receivers to transmit various music channels wirelessly to silent headphones.
The silent disco headsets can instantly switch between 3 audio channels, allowing large groups to listen and dance to different music all at the same time – those without headsets will hear no music!
Why our silent headphones rock!
Get a Free Silent Disco Quote
Silent Disco Events & Ideas
Reviews from our happy customers
The silent disco was a massive hit with all my family & friends, some even said it was the best night out they have ever had. It was a fantastic evening which everyone loved! I would 100% recommend a silent party to everyone! Thank you again, you were fab!!
Booked Silent Disco Party UK for my wedding on June 30th. The DJ was excellent. Turned up on time, set up was quick and played a fantastic variety of music. The silent disco element of the night was the absolute highlight, Great fun. Would 100% recommend!
We booked a silent disco rental for our wedding in Exeter and it was brilliant! From the start Gareth was really easy to communicate with and made everything a doddle for us. The disco went down amazingly well with all our guests! He had pre-made playlists of different styles for us to choose from making our lives super easy!
Although we had a few sceptical guests initially, the silent disco DJ package was a hit on the night!! Young and old hit the dance floor like we had never seen before. A great service, friendly and reliable. Thanks for helping us have so much fun!
We booked Silent Disco Party UK for our party this summer and they were brilliant! The live DJ was ace playing a great contrast of music, keeping our friends singing all night long! It really was hassle free compared to having all the equipment delivered when we arranged a silent disco party at home a few years ago. Thanks again for making our night!
We had a fantastic time with our silent disco party hire! It's great fun and really easy to set up the equipment. The hiring process is low cost, super simple and the team were really friendly and helpful. 10/10!
Would totally recommend Gareth and Chris. The silent disco went down a treat with all the kids and party guests. Everything went so smoothly from picking music playlists and giving requests. It was great to see everyone laughing and having an amazing time. We want to do it all over again! Thank you so much.
We bookedfor a weekend mini community festival and it was excellent. All the equipment was delivered to our address, with clear instructions. It was easy to use, and the headphone disco hire was perfect. Fabulous, easy to use service. I thoroughly recommend.
Silent Disco Party UK DJ'd at our wedding recently. We had been to a few headphone discos and think they are a lot of fun. I particularly enjoyed taking my headphones off and listening to everyone singing along (badly). I'd recommend a silent disco package for any wedding to add the novelty factor to your special day.
We hired Silent Disco Party UK for our 40th party in London! It went down a storm and everyone has been talking about how much fun it was! Thank you so much for the great equipment, you rocked our party.
The best music, great atmosphere and the easiest company to deal with. We highly recommend Silent Disco Party UK for every occasion.
Great service, quick response to queries and extra headsets as back up. We even had access to free playlists and all the kit had instructions for easy set up. We highly recommend this silent disco headphone company, thanks!
Great service and communication! The silent disco headsets were brilliant and simple to use both with our own DJ and using extra playlists on a laptop. Would definitely recommend!
Great company and silent headphones. Made everything very simple, easy delivery and collection with good communication. Thanks!
Silent Disco Party UK did an amazing job at DJing for our party. Everyone had a great night partying outside under the stars, without any loud music! Such a fun and unique experienced so we have already booked again for next summer. Recommended to anyone! Thanks Jill and David.
Absolutely loved the silent disco in Bristol last night. Can't recommend it enough, everyone should go to at least once in their lives! So much fun!
Such a fun way to celebrate my 30th. Everyone loved the silent disco and for lots of people it was the first time. Gareth always replied to emails, arrived on time and set up and down quickly. Thanks for a fab night, defo recommend!
Great communication and service, would definitely recommend and use again. Everyone really enjoyed the headphone party rental and it was lots of fun. The majority had never experienced a silent disco before and loved it!
Had the best silent rave 50th party on Saturday! Low prices, excellent service, answered all my questions and very good headsets. Would recommend to everyone. Thanks
We had an excellent experience. They were so quick to respond to all enquiries and get the headsets to us. The process was really easy and with a quick refund of the deposit. Would really recommend. Thanks so much for an excellent party!
Fabulous music, fabulous evening. If you've never done one before you haven't lived! Thanks to the DJ Gareth it made my 50th Birthday an evening to remember and he comes highly recommended!
I hired 20 sets at a great price for a hen do. The kit was amazing, everyone loved it. It was super easy to set up and delivery was so simple. You made everything stress free, thank you!
Fantastic fun! Izzy's 21st silent birthday party exploded when the first people put their headphones on. Immediate dancing! We would highly recommend and can't wait to use them again!
Gareth was really helpful throughout the booking process and leading up to the event. The headphone disco completely made the night and everyone had a great time! Gareth was really helpful, professional and friendly. Thank you!
Easy to book the hire package, receive the headphones and return them. Silent discos for schools are fabulous fun for all the children and teachers alike!
Absolutely smashed my 21st! Thank you so much. Everyone loved the silent disco! Had ages 18-80 and there was something for everyone.
This company are amazing, and the customer service is great. So easy to set up and return the equipment, with amazing prices.
I hired a silent disco children's party for my 12-year-old daughter's birthday. It was just brilliant, all the girls had a great time, with almost no noise for the parents apart from laughter. Highly recommended.
These guys provided the headphone dance party at our wedding and it was absolutely awesome! They brought the equipment to the venue and showed us how to use it, then picked up again the following day. We had the best time - would absolutely recommend!