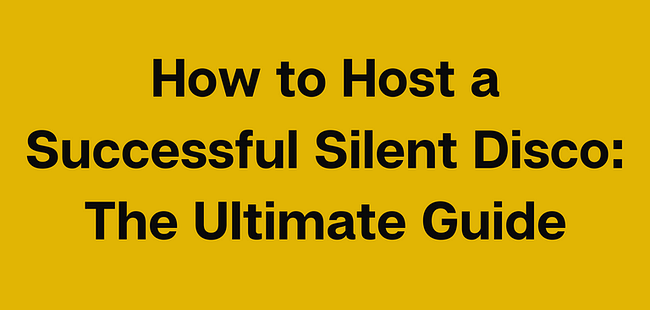 If you're looking to throw a silent disco party for a friend's birthday, at a wedding or maybe an event at your local night club, and you're not quite sure where to start… you're in the right place! We've pulled together a comprehensive article that covers all of the common questions that our first-time clients ask us, to help you understand exactly how to have a successful silent disco.
Read the rest of the article to find out our top tip and tricks that will help you host the best silent disco ever.
What is a silent disco?
If you haven't been to a silent disco before you might be wondering what is a silent disco and what is the point of a silent disco?! A silent headphone event is very similar to a normal club night, festival, wedding, or birthday party. Everything is the same, except, instead of music blasting out of large speakers, music is transmitted directly into LED wireless headphones. The benefits are that it's more cost-effective than traditional speaker equipment hire, partying can continue way past normal noise curfews, and you can play up to three music channels at the same time. So, there can be music for everyone's taste. You could have some swinging 60's classics for Nan and Grandad, 80's ballads for your aunts and uncles, and some house music for you and your mates, all playing at the same time.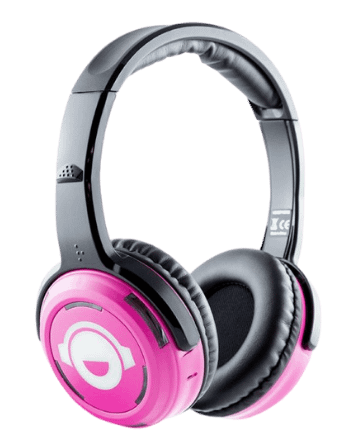 How does a silent disco work?
You might be thinking that it's really difficult to set up all of the equipment and that you need to hire some IT nerds to get things working, but in fact, setting up a silent disco is really simple. To make silent discos work you need four things; between one & three transmitters, a bunch of wireless party headphones, a music source for each transmitter, and some people ready to dance.
The music source is fed into the transmitter(s) which then broadcasts the music up to a distance of about 100m. The receivers located in the wireless disco headphones pick up the signal and play the music through the speakers in the headphones. It's a little bit like how radio works. Each transmitter you install will be linked to one of the channels on the headphones. This means that attendees at your event can flick between channels and tune into different DJs or different playlists whenever they please.
We often get asked "how do you connect headphones to the silent disco equipment?" because naturally, people think that it's like connecting your Air Pods to your phone and that there must be a way to 'connect' it. However, the beauty of silent disco headphones is that you only need to turn them on. Because the receivers are already programmed into the frequencies that the transmitters broadcast, they will automatically play the music when that channel is selected. There's no need for Bluetooth or infrared, just good old-fashioned radio waves! If you want to know exactly how to use our wireless headphones, check out our detailed equipment set up guide.
What do you need for a silent disco? How to hire silent disco equipment
To get everything you need to host a silent disco party, you'll need to find a reputable and reliable silent disco hire company, like us! We will rent you all the equipment needed and deliver it to your address via a courier company, to make sure it gets there on time.
Here's a list of what you need and what we will provide for your silent disco party rental:
· 3 x radio transmitters
· 3 x power cables
· 3 x 3.5mm aux cables
· LED wireless headphones (enough for everyone attending the event)
What you will need to provide:
· A venue
· 3 x music sources for each transmitter. This could be a mobile phone, a laptop, an MP3 player, or DJ equipment.
· Some guests ready to dance the night away.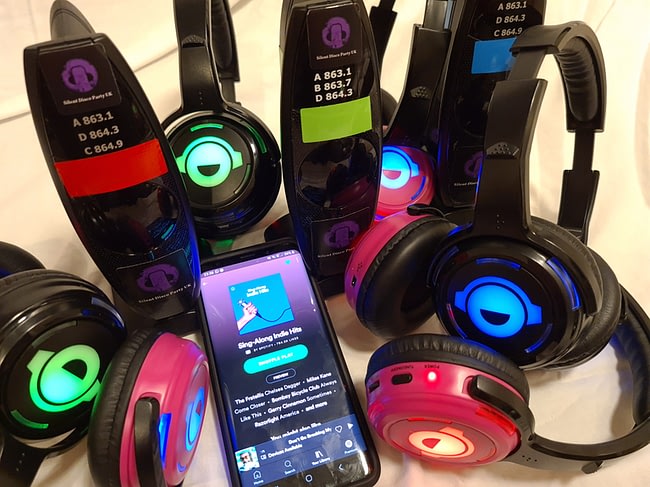 What types of events are silent discos good for?
Silent discos are great for a large variety of events. Some of the most popular types of events that our clients hire our equipment for include:
· Birthdays
· Kids parties
· Weddings
· Corporate events
· End of year school discos
· Music festivals
· Christmas work parties
· Night club events
· House & garden parties
Wireless headphone parties work really well for events at home or in the garden. We've noticed that at-home events have been happening more and more in 2020 due to the lockdown restrictions and limitations of social gatherings in public spaces like night clubs.
Silent discos work well for post-COVID events because it's easy to social distance. There's no need to be gathered close to a speaker to hear the music. Anyone with a pair of wireless earphones can find some space within a 100m radius of where the transmitters are stationed and enjoy the same quality of music as everybody else. It also works just as well outdoors as it does indoors. This is great as events are being forced to move outdoors to comply with the current regulations.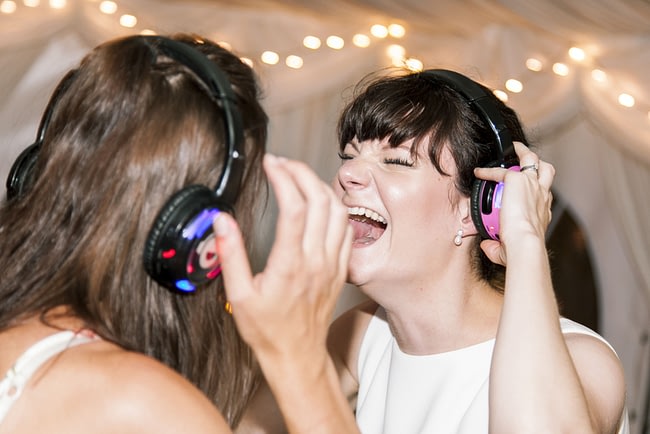 Find a venue or have a silent disco at home
You know how it works and you know what you need, so it must be time to find a venue to host your party. Selecting the right venue is a crucial aspect of hosting any party and can often be the difference between an amazing or very average party. Luckily, silent discos give you much more flexibility over the venue because you don't have to worry about noise curfews and the equipment doesn't take up much space.
Of course, if you choose to host a headphone party at home, the venue is already sorted. However, if you're looking to hire a public venue our advice is not to choose something too big. This is because a party vibe is quickly lost if everyone is too spread out. A packed dance floor always gets everybody in the mood!
Book a DJ, Band, or musician
Once you've decided on the venue and taken care of hiring the silent disco equipment and headphones, you want to start thinking of the type of act you want up on stage. You have so many options when it comes to booking an act because anything that can be played through an amplifier, can be played through our silent party equipment.
The most popular type of act is always a head-to-head DJ set. This is where two DJs battle it out to try and win the crowd. It works really well if you have each DJ playing a completely different genre because you'll see different dance moves being thrown to different beats, which is entertaining for everybody to see. One specialist silent DJ playing the full night also works really well and you can set up playlists for other channels for a bit of variety too.
It's also possible for bands to play a silent disco if they use all electrical instruments. So, you can bring live music to any venue without having to worry about upsetting neighbours with loud drumbeats and heavy basslines.
Or create your own silent disco playlists…
Of course, not every party has the budget to book a professional act. If that's the case, then you can take control of the music by creating your very own party playlists or find playlists others have already made. You can just type in keywords such as 'indie rock' or '80s classics' into Spotify, Apple Music, Amazon Music, or other music streaming services, and find lots of playlists filled with the best silent disco party songs, for all types of styles and genres.
Does everyone have to listen to the same music at a silent disco? Most certainly not! If you're going to create your own playlists, then we recommend setting up multiple channels at once so that your attendees have a choice of what to listen to. Try making genre-specific channels and have some fun with it! You could have a channel with 80s classics to see how people react or a channel solely dedicated to the Spice Girls and watch out for any unexpected fans singing along to the lyrics. With 3 channels of simultaneous music, the possibilities and combination of music is endless.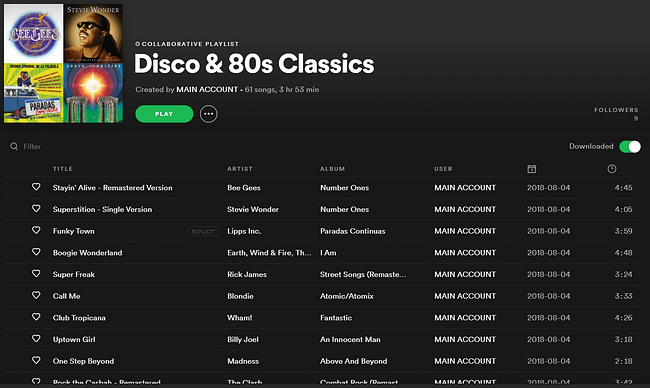 Think about lighting
Great lighting for a traditional event usually involves a complicated set up where the lighting syncs with the music. However, you can forget about the complicated stuff when you're hosting a party or event because it will be impossible to sync the lights with all three music channels anyway. It is still important to get the lighting right though because great lighting pulls people into your event, whereas bad lighting can send them running for the hills.
If your budget can stretch to it, working with a visual artist to set up lighting for your event can have many benefits and help set the perfect mood for your event. Some light engineers can pre-program lighting effects based on your playlists or you could even have someone at the event, reading the room and adapting the lighting accordingly.
For smaller events just keep it simple. Backlight the stage so it's easy to see any performers and don't put too much light on the dance floor so people aren't afraid of their crazy dance moves being seen by everyone.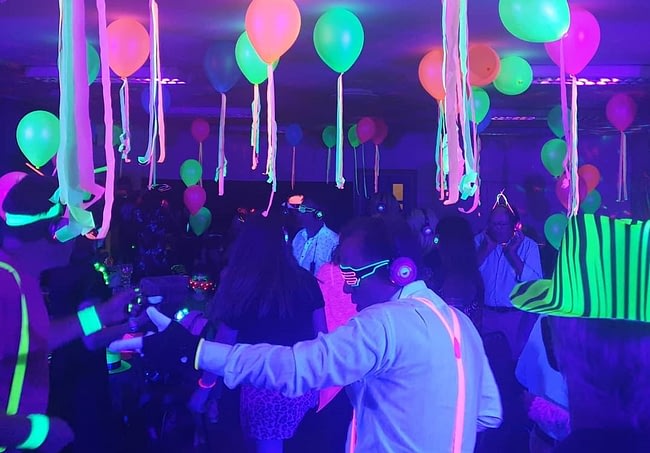 Crowd management & protecting the equipment
For at-home events, you don't need to hire any bouncers to control the flow of people and staff to keep track of the equipment. You can trust your friends and family to hand everything back at the end of the night in once piece… although we all know how family parties go sometimes!
For larger events here are some tips we find are really useful for managing the crowds and protecting the silent disco hire equipment:
· Ask your guests for a refundable cash deposit or if you can hold onto a form of ID in exchange for the headphones. This will reduce the number of runaways leaving the event with your headphones.
· Set up one entry/exit point and have someone on the door to keep an eye out for anyone leaving the venue with a set of headphones.
· Make sure that everyone who enters the party has a pair of headphones. This will reduce the number of people who claim they didn't get a pair or say that they have lent them to a friend and now want another pair. It will be much easy to keep track!
Food and Drink
What's an event without quality food and drinks?! Obviously, the type of event you're hosting effects what you offer to your guests. Don't be bringing any vodka martinis to little billy's birthday party! Playing to your audience is key here.
However, regardless of the type of event, if you want to offer food, make sure it's something that's quick to eat and can be eaten from your hands, or a paper plate if needed. There's no quicker way to kill the vibe than asking everyone to sit down for an hour to eat a three-course meal. Keep it light and easy.
In terms of drinks, if alcohol is appropriate, make sure you have the basics covered with one or two beers and a few types of wine. Designing a cocktail menu that matches the theme of the night always goes down well and has the tendency to make everyone a little bit looser on the dance floor…
Make your silent disco party one to remember
If you've still got some time left after you've followed the rest of the steps, then why not plan some fun games, create a fancy dress code or add a party theme. Go the extra mile for your guests and make it one to remember!
For example, having a competition at a kid's party for the best dancer, loudest singer, and best dressed is a great way to get everyone more involved in the party.
Whether it's a club night or a party at home, everyone loves an excuse to dress up. Having a fancy-dress theme will get the laughter started and people seem to lose their inhibitions quicker and start dancing sooner if they're already dressed up as Frankenstein or Danny Zuko from Greece.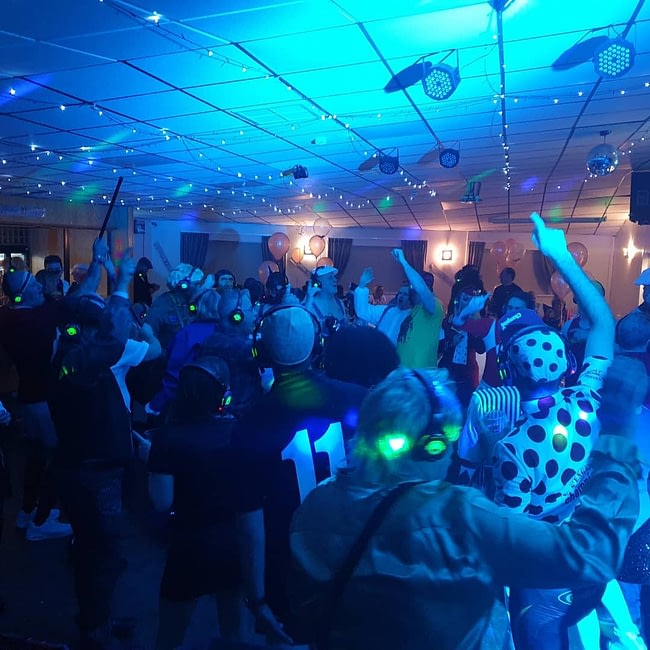 Silent disco hire costs
By this point, you probably only have one question left on your mind… "How much does it cost to hire a silent disco?" Well if you choose to rent your silent disco equipment from us, you can have everything you need from just £90. We'll deliver the equipment to any UK address via courier and you'll get free access to our Spotify playlists to help with the music on the night. Obviously the bigger the party, the more headphones you will need so here's a breakdown of our prices for different party sizes. All of the hire prices below include headphones, three transmitters, cables, plugs, delivery and set up instructions.
Our Silent Headphone Rental Prices:
· 10 headsets for £90
· 20 headsets for £110
· 30 headsets for £125
· 50 headsets for £155
· 65 headsets for £175
· 80 headsets for £200
· 100 headsets for £225
· 125 headsets for £255
· 150 headsets for £295
It's Time to Have Your Own Silent Disco
Hopefully, you now understand lots more about silent headphone parties which are becoming more and more popular every year with partygoers and event hosts. They work well at weddings, birthday parties, music festivals, night clubs and anywhere with enough room to dance. The result is a room full of people dancing and singing like nobody's watching, and what can be more fun than that!?
Here at Silent Disco Party UK we offer everything you need to throw your own silent headphone party and we will deliver all of the equipment to any UK address. What are you waiting for?!
If you have any questions about silent disco kit hire, want a quote, or would like to book, please Contact Us and we'd be more than happy to have a chat.