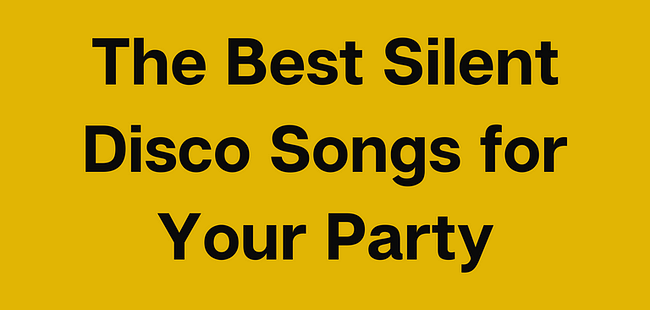 At a silent disco, it's all about the music. If you are unfamiliar with the concept of silent discos, they involve each attendee wearing headsets and listening to a playlist on three separate channels. So the event is nearly silent – although when you remove your headset, you'll hear people singing everywhere! However, the music on each of the three channels is a big focus.
If you are planning a silent disco party, it's crucial to choose the right music. Try to think of music that people want to sing along to, that unites revellers in the same hall or even something that people are likely to whack out goofy dance moves when they hear the lyrics.
We've tried and tested a few, and here is the ultimate silent disco party playlist. Include some of these in your next disco!
Best Silent Disco Songs
YMCA
It's a party staple, and something that everybody – from kids to great grandparents – knows the dance to. This 1978 classic by the Village People has people from all over stretching up for the Y, curving their arms round into an M, flailing to the side to make a C, and then reaching up once more for the A.
I'll tell you a secret – if you're a silent disco DJ, watching people do this dance to no sound can be very entertaining. It will get the crowd pumped when it comes on the radio though, and is definitely one of the best silent disco songs!
Cotton Eye Joe
Another classic, the song Cotton Eye Joe is a traditional folk song that has been around since before the American Civil War. However, the version that we all know is by Rednex and was recorded in 1995.
Cotton Eye Joe will be a hilarious addition to your silent disco, because of the song's signature do-si-do dance. During the instrumental part of Cotton Eye Joe, the traditional dance is partiers linking arms with partners and dancing around in a circle. Some people might be listening to another song on another channel, so it's up to the people listening to Cotton Eye Joe to discern who else is on the same track as them!
Single Ladies
A club classic from 2008, Beyonce's Single Ladies has been inspiring sassy, independent women for the last 12 years, and it is still one of the best silent disco songs. It will be a sure belter at a silent disco, and you'll see plenty of people shaking and grooving as they proclaim "if you like it then you should have put a ring on it!"
Macarena
Another disco classic, this is perhaps the song with the most universal – and easy to remember – dance moves. Whatever the audience, you can guarantee that most people should know the simple Macarena dance routine. Again, it will be quite entertaining to see the macarena dancers versus the non-macarena dancers in the audience!
Mr Brightside
There was a time when you couldn't enter a British club without hearing the ubiquitous "Cause I'm Mr Brightside!" playing. For anyone who is over 23, this will be a flashback to their clubbing past. There aren't any (official) dance moves to this track, but it certainly is a belter and is one song that has the power to unite revellers together. It's a throwback to another time, but I can guarantee the party-goers will love it.
Dancing Queen
Nearly everyone knows the lyrics to ABBAs Dancing Queen, thanks to the 70s band's continued success over the years and its feature in the 2008 and 2018 films Mamma Mia and Mamma Mia: Here We Go Again!. Its popularity with all ages makes it a fantastic choice for your silent disco playlist.
What's more, the lyrics "you can dance, you can jive" encourage people to dance together, perhaps pointing at the person in the group who can dance and jive! It's a tremendously unifying song that everybody will love.
Reach
If your audience was born in the early 90s, this will go down a hit on your silent disco playlist. S Club 7 were a hugely popular band for children in the late nineties and early noughties, with many people in their late 20s today reporting feeling very nostalgic whenever they hear their songs!
There's a dance that goes with Reach too; and when you play it at your silent disco, you'll have everyone trying to remember exactly how it goes! It's a classic song that they probably won't have heard for a while but will bring a massive smile to the crowd's faces.
Agadoo
Back in the 80s, disco was only just beginning. And with it were classics like Black Lace's Agadoo, which today is one of the best silent disco songs. This song, which has the classic line "push pineapple shake the tree" is another classic that gets the crowd pumping. Young and old alike will bust out some excellent dance moves to this track!
Africa
Towards the end of the night, when you want to find some tracks that will give people that little boost to sing along to the end, think about Africa. Toto's 1981 classic has a catchy beat and a chorus that's easy to belt along to, and playing it will ensure that people stay hooked on the silent disco until the night is over!
What songs should I choose on what channel?
As previously mentioned, most silent disco parties have three channels, and partiers have the option to switch from channel to channel. You might decide to have a specific genre for each channel – for example, channel one could be soft rock, channel two could be cheesy disco classics and channel three could be modern pop – but actually, we have always found a mix of songs on each channel to be most effective.
Just as in most clubs you'll hear a range of music, having a staple playlist with a mix of songs should please most of your silent disco attendees!
The Best Silent Disco Playlist
For even more inspiration, we give booked customers free access to our range of 30 tried and tested Spotify playlists, to save you the time and effort of creating your own.
Whether you go for ultimate disco, with songs like the YMCA and Agadoo, rewind to the 70s with ABBAs greatest hits, or opt for more modern songs like Single Ladies and Mr Brightside, this silent disco playlist will ensure that your party is one to remember!
Silent Disco Equipment Hire
Here at Silent Disco Party UK we offer everything you need to host your own silent disco headphone party and we can deliver all of the equipment to any UK address. What are you waiting for?!
If you have any questions about silent disco headphone rental, want a quote, or would like to book, please Contact Us and we'd be more than happy to have a chat.